Research and Development activities are always aimed at obtaining fresh and innovative results to overcome scientific and technical uncertainties.
To qualify an activity as R&D, it must match four criteria: Novelty compared to existing knowledge in the sector, Creativity, Uncertainty and Planification.
This is exactly what SEVEN Sensor's R&D team have done. They have been responsible for researching, planning and implementing new programs and protocols within the company and overseeing the development of new products. They therefore took SMA as a project to be developed and began their studies.
SMA's Newest Weather Station
Following a well-conducted study by the R&D department, we succeeded in connecting the SMA's Data Manager M with the complete standard SEVEN Sensor weather station, which is equipped with a Modbus Irradiation sensor3S-IS-T-MB, Analog Ambient Temperature Sensor 3S-AT-18B20, Analog Module Temperature Sensor 3S-MT-181B20, a Digital Wind Speed Sensor 3S-WS-PLS-P and a Relative Humidity Sensor.
This solution has been well requested; we have received several inquiries for sensors that can connect to the data Manager M while adopting the Modbus protocol. We are now able to guarantee this compatibility without any problems.
Our latest SMA weather station communication scheme has become as follows: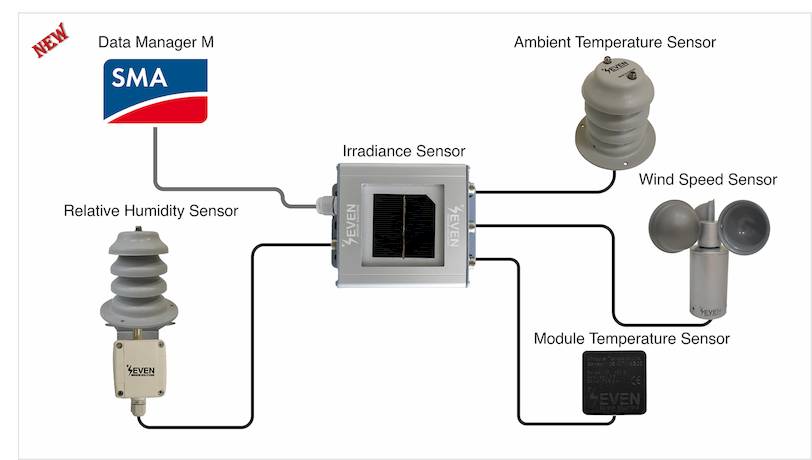 Previous Full Set of SMA
SMA weather station at first was contained of Analog Irradiance Sensor, Ambient Temperature Sensor with PT1000 output, Module Temperature Sensor with PT1000 output and an Analog Wind Speed Sensor. However, these sensors could not be connected directly to the SMA DataManager M, the data logger of the SMA, they required intermediaries to enable the communication, which are the MOXA IoLogiks E1242 with 4 analog inputs and 4 digital outputs and E1260 with PT1000 inputs.
The communication scheme of the previous SMA weather station was as shown in the follows figure: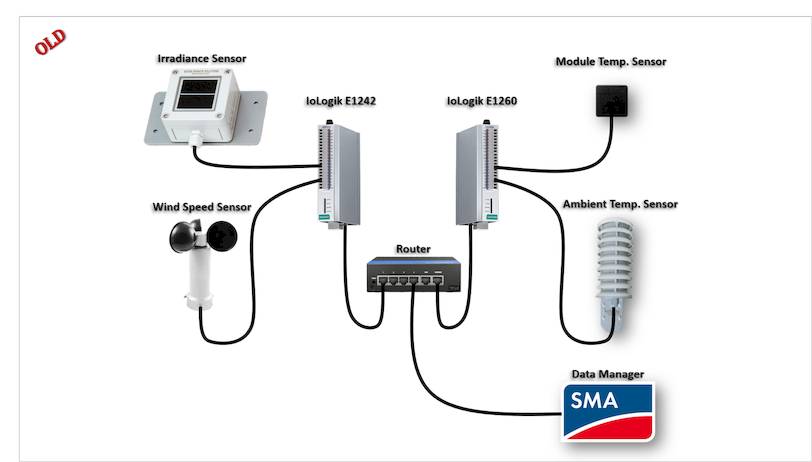 Advantages of the SMA'S New Weather Station
The new communication solution of our standard sensors with the SMA datalogger is cheaper than the previous one because there is no longer need to use the Iologics E1242 and E1260 to ensure the communication. Thus, only the Irradiance sensor that will be connected to the DataManager M. The other sensors will be connected directly to the Irradiance sensor itself because it contains 4 input ports and one Modbus output.
This solution, then, is more reliable and suitable for an exact and accurate performance.
SUNNY PORTAL
Once all the sensors are installed on the weather station and connected to the Data Manager M, the monitoring system is switched on. for that reason, our engineers provide a remote set up via the sunny portal. This Sunny Portal is an internet portal for monitoring and visualizing the system data. It serves as a user interface for the extensive configuration of the Data Manager M, system sections, and the entire system.
SEVEN at Your Service
Our customers always have the right to choose the sensors they want for their weather station. Therefore, in order to purchase, they only need to contact us by mail or phone.
After negotiating the conditions and discussing the technical details, we send the order by express air freight, which is delivered to the customer's address within 2-4 days, Internationally.
During installation, if you face any difficulties, our engineers are available to provide you with a remote set-up service and information on anything you may need.