Meteorological Sensors Manufacturer
SEVEN Sensor Solutions is manufacturer of weather stations, containing irradiance sensor, pyranometer, wind speed and direction sensors, ambient and module temperature sensors, and relative humidity sensor, which provide meteorological parameters related to climatic variabilities for PV Plants.
Our meteorological sensors, SEVEN sensors, record information on all relevant factors that influence the performance of a PV system. SEVEN produces different types of sensors, such as Irradiance sensor, Ambient Temperature sensor, Module Temperature sensor, Wind Speed sensor, Wind Direction sensor, Compact Humidity and Ambient Temperature, etc. Our sensors are an important part of the monitoring and control system. Thus, the measured values collected by these sensors can be recorded by a datalogger via an analog, digital or a Modbus RS485 signal.
The heart of our weather station, or meteorological station, is the irradiance sensor which absorbs the same radiation as the solar panels, thus allowing a correct measurement of the radiation.
Other sensors are also used to form our weather station, either temperature, wind or humidity sensors. They are used to collect all environmental data and to find out what affects the efficiency of the solar panels and prevents them from performing ideally.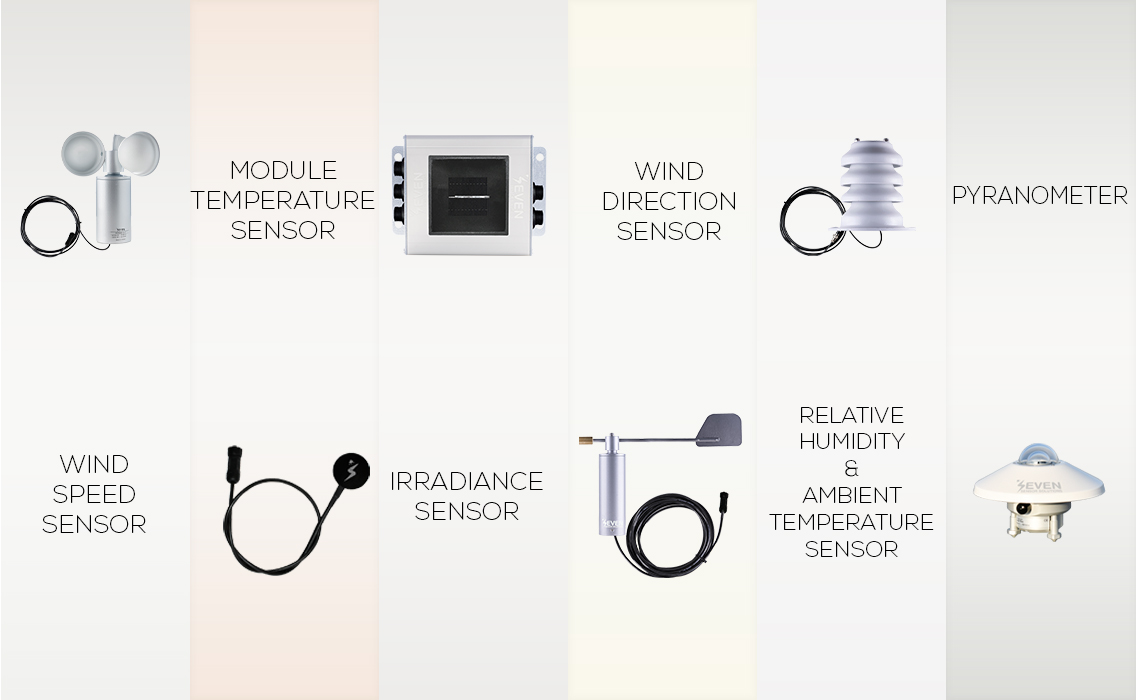 Weather Stations of SEVEN, Sensors and Dataloggers
The sensors that we, as SEVEN Sensor, produce are as following; the Irradiance Sensor, that measures the total solar radiance in Watts per square meter, the Ambient and Module Temperature Sensors, the Wind Speed and Direction Sensors, The Relative Humidity Sensor, and also we provide other sensors such as Soiling Monitoring System and the Rain Gauge.
Our sensors have succeeded in being compatible with well-known brands of dataloggers, such as Huawei Smartloggers, GoodWe EZlogger, SolarEdge Gateway, SMA Data Manager M, Sungrow Logger, Growatt ShineMaster, and as it's SunSpec compliant, it is also compatible with Bluelog Datalogger, Fimer VSN700 and Inverter, and all similar devices.
Buy Meteorological Sensors from SEVEN Sensor Solutions
SEVEN offers outstanding price-performance ratio and a 5-year warranty. We also provide remote configuration and installation services.
SEVEN provides high quality products manufactured in Turkey. In addition, we provide after-sales services such as remote setup, commissioning and installation and training on site. Note that our engineers are multi-tongue. Thus, it will be so easy to communicate.
Benefits of Monitoring Systems and Weather Stations for PV solar
Photovoltaic monitoring systems enable the production of electricity to be monitored and the operator to be informed immediately of any malfunction on site. By using the sensors, the expected and actual production can be seen on the same screen and possible reasons for power losses and a lower performance ratio (PR) can be investigated.
SEVEN Sensor At Your Service
Our entire team is at your disposal to meet your specific needs. Our engineers look forward to working with you on your specific needs.
SEVEN Sensor Solutions wholsale sensors and full meteorological sets all over the world, thanks to our logistics department which ensures fast delivery to our customers all over the world. This means that customers receive their products on time at their front door.
How can we help?
Here you can chat live to one of our customer support advisors via our Chat system, WhatsApp or Facebook Messenger. You can also send us an email and we'll reply you back as soon as we can.