Manual Soiling Sensor with HMI-PLC Monitoring
SEVEN Soiling Sensor measures the soiling due to environmental factors and which causes energy loss (PV Soiling = Energy Loss). SEVEN Manual Soiling Sensor consists of two irradiance sensors and an HMI-PLC display. One of the sensor is cleaned periodically and the other one is cleaned with the panels at the same time.
DESCRIPTION
The software calculates the difference between these data and gives the soiling ratio of the PV plant as per IEC61724-1 (Annex C) Standard. The Investors can check the soiling ratio and prevent the power loss by cleaning the panels on time they choose.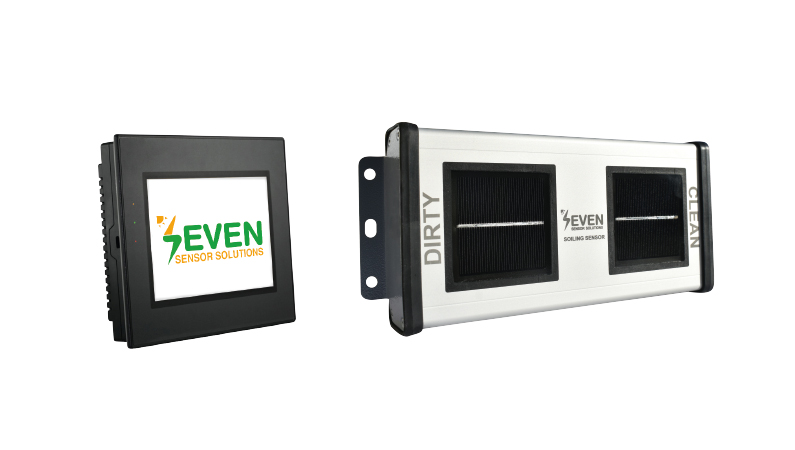 EQUIPMENT SPECIFICATIONS
Sensor Box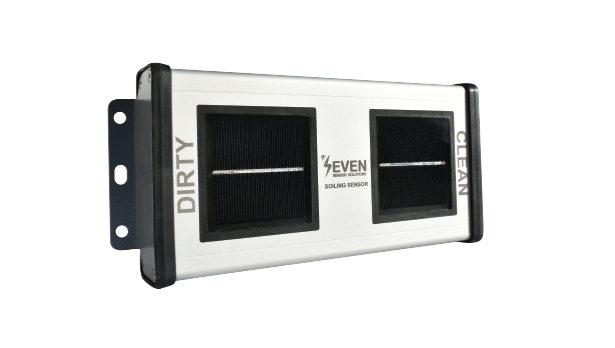 It consists of two solar cells in a UV-protected aluminum housing with an output connector and a ventilation plug, measures the irradiance values. The clean sensor must be cleaned periodically the other sensor must be cleaned with the panels at the same time.
---
HMI-PLC Display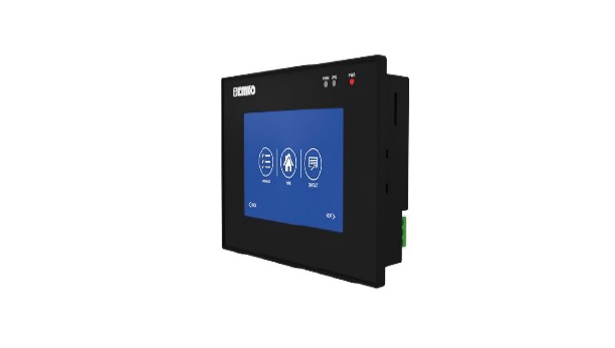 It includes PLC and HMI for monitoring and recording the Soiling Ratio as per IEC61724-1. The displayed value will be the daily average soiling ratio. This device must be moun- ted in a way that it wan't be effected by precipitation and sun.
---
WIRING DIAGRAM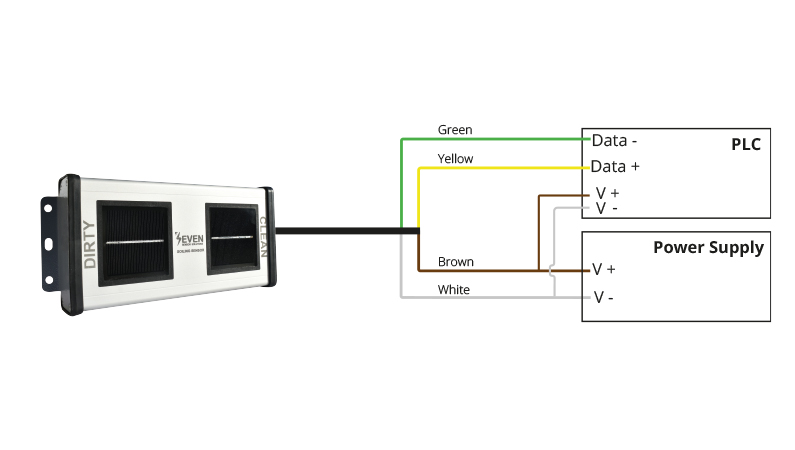 TECHNICAL SPECIFICATIONS
| | |
| --- | --- |
| General Information | |
| Soiling Ratio | 0%… 100% as per IEC61724 Standard Measured once a day |
| Display Device | HMI-PLC Display (55 mm x 96 mm) |
| Cleaning Method | Manual |
| Resolution | %1 |
| Recording and Display | Excel/PDF/Graphic |
| Irradiance Sensor Calibration | IEC 6904-2:2020 |
| Sensor Box | UV resistant, advanced weatherproof box |
| Dimensions, Weight | 244 mm x 108 mm x 42 mm (W x L x H), approximately 450g |
| Power Supply | 24V |
| Operating Temperature | 0 / +50°C |
| Other | |
| Warranty | 2 years limited warranty against manufacturer defects. |
HMI – PLC DISPLAY DESCRIPTION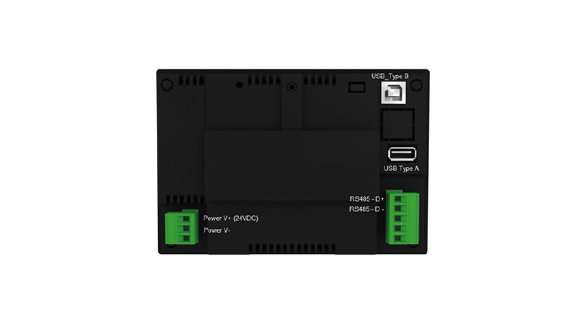 Power V+/V- (24VDC): The port where the power supply is connected. The operator panel ope- rates at 24V. The white and brown wires of the sensor are the power connections. The adapter that supplies the power to the operator panel can also supply the power to the soiling sensor with parallel connection.
RS485 D+/D-: The COM port to where the data wires of the sensor are connected. The operator panel is programmed by this COM port. The green wire from the sensor must be connected to (D+) and yellow wire to (D-).
USB Type-B: It is used to upload the soiling sensor software or for the system updates of EMKO by using Proop Builder Program.
USB Type-A: The USB flash drive can be connected to this port. It is used to download the calculated data.
Screen: The calculated soiling ratio is displayed on this page. The other pages are accessible via this page.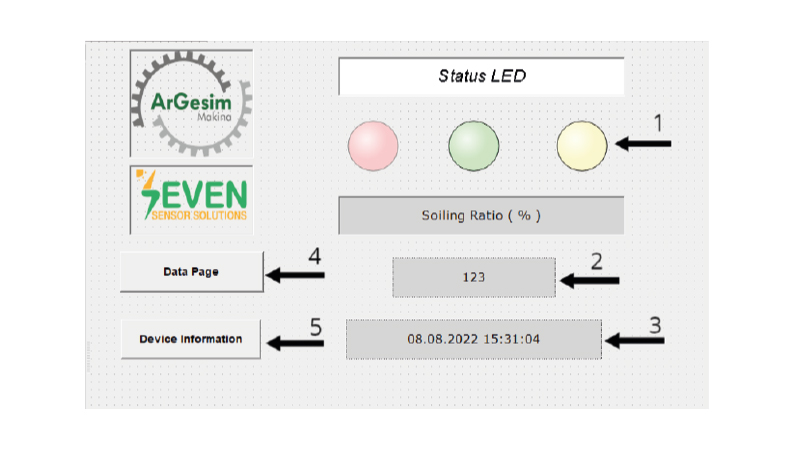 Status LED :

Red LED : The soiling sensor and the operator panel are unable to communicate.
Green LED : The calculation and communication are done correctly.
Yellow LED : There is undefined data in the calculation time.

Soiling Ratio (%) : This ratio value is updated once a day after 3pm
System Data and Time
Data Recording Page: Acces to the data recording page.
Device Information