In solar power plants, the importance of temperature and its effect on panels is important. In photovoltaic systems, there is an inverse ratio between power output and panel temperature. As the temperature increase in the panels, the power received from panels will decrease. As the temperature in the cells inside the panel increases with the increase of the ambient temperature, the energy production will decrease.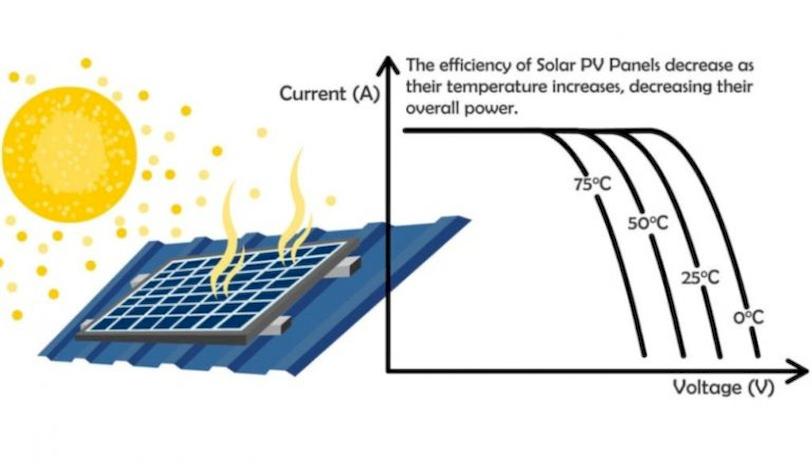 For photovoltaic cells, the ideal test condition is 25 ° C, 1,000 W / m2 solar irradiance and 1.5 AM (air mass as per IEC 60904-10:2020). The efficiency of the panels is calculated according to these values. With the radiation coming from the sun, electricity production will start, but since the efficiency of the panels is not 100%, some of the energy obtained by the radiation from the sun will turn into electrical energy and some will turn into heat. As a result of this event, an increase in temperature will occur in the panels. The current increase will occur due to the movement of the electrons released by the heating of the panels, but the voltage value will decrease. The chart below shows this decrease.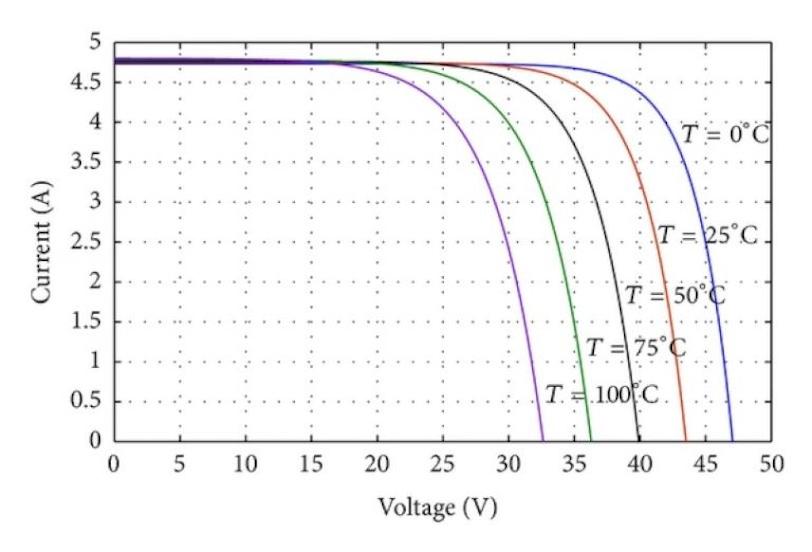 Why Do We Use Two Types of Temperature Sensors?
There are two types of temperature sensors; ambient temperature sensors to measure ambient temperature, module temperature sensors to measure the panels temperature.

For example; while the ambient temperature shows 35 degrees in summer time, the module temperature can be in the range of +60..+65 degrees. If monitoring is made using only the ambient temperature sensor or the module temperature sensor, it will be mistaken about the temperature value and the operators will make performance evaluation with wrong values while evaluating the system. Therefore, this error is avoided by using both types of sensors.
The high temperatures in solar power plants reduce the efficiency of PV system.
Temperature measurement is made using ambient temperature and module temperature sensors in solar power plants. As Seven Sensor, we recommend using both types of sensors in solar power plants.
Technical Specifications of Temperature Sensors
The ambient temperature and module temperature sensors that we produce as Seven Sensor are manufactured with PT1000 and DS18B20 sensors. The technical specifications of these sensors are shown in the tables below.
| AMBIENT TEMPERATURE SENSOR | DS18B20 | PT1000 1/3 Class B as per EN 60751 |
| --- | --- | --- |
| Measuring Range | -55…+125 | -20…+80°C |
| Accuracy | ± 0.5 C⁰ | ± 0.1 ⁰C |
| Sensor | Housing Stainless steel tube, 6 mm diameter, 50 mm length | Housing Stainless steel tube, 6 mm diameter, 50 mm length |
| Cable | 3 m or 5 m PUR Cable, UV and weather resistant | 3 m PUR Cable, UV and weather resistant |
| Protection | IP67 | IP65 |
| MODULE TEMPERATURE SENSOR | DS18B20 | PT1000 1/3 Class B as per EN 60751 |
| --- | --- | --- |
| Measuring Range | -55…+125 | -20…+80°C |
| Accuracy | ± 0.5 C⁰ | ± 0.1 ⁰C |
| Sensor | Housing Plastic housing with aluminum plate, H x W x L: 12 mm x 50 mm x 50 mm | Housing Plastic housing with aluminum plate, H x W x L: 12 mm x 50 mm x 50 mm |
| Cable | 5 m PUR Cable, UV and weather resistan | 3 m PUR Cable, UV and weather resistant |
| Protection | IP67 | IP65 |