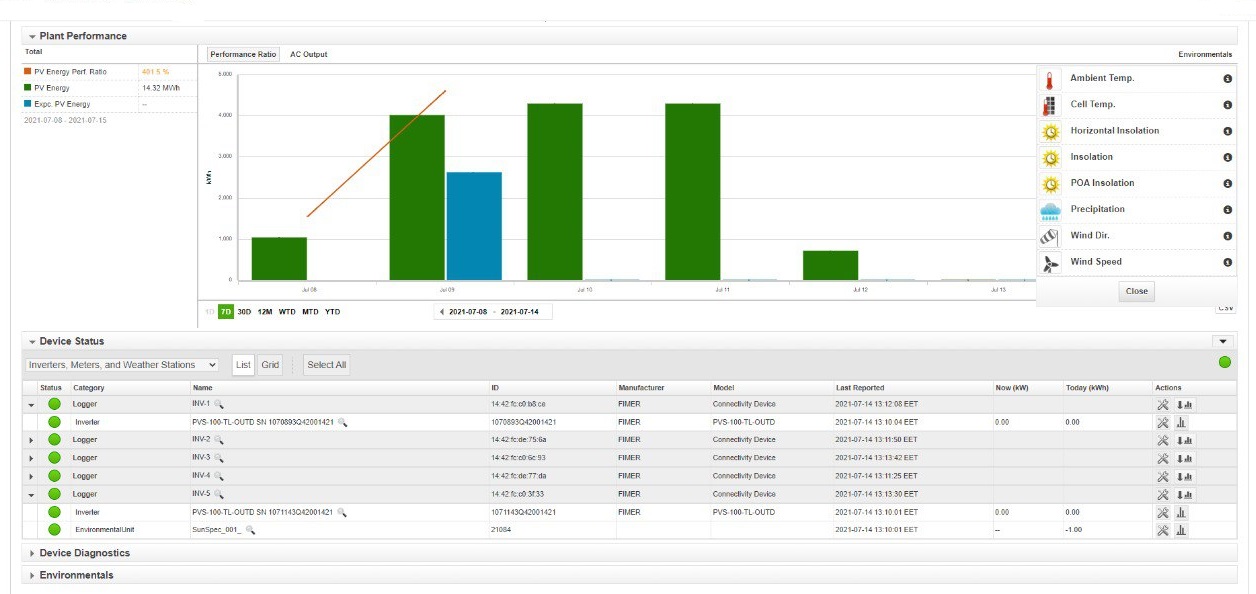 ABB is a leading global technology company that manufactures inverters and dataloggers. The restructuring energy and technology giant ABB has completed its divestment of the solar inverter business. In March 2020, Fimer had acquired the inverter business of ABB.
PVS-100/120-TL model Fimer inverter is an inverter model suitable for both power plants established for land type irrigation operations and large power plants established for commercial purposes. It supports SUNSPEC protocol.
SEVEN Weather Stations are systems that measure the data used to calculate the performance of PV plants and include various sensors for these measurements. They are used to calculate the energy that must be produced by the PV plant. Thanks to the data coming from the sensors, the energy that is produced is compared with the energy that needs to be produced. In this way, it is learned how the performance of the PV Plant is. If the obtained PV plant performance ratio is below 80%, it indicates a problem in the facility. Thus, the plant owner realizes that he has to intervene in his inefficient plant.
The sensors are determined according to the inputs of the datalogger to be used and the communication protocol with the datalogger. The data collected on the datalogger is transferred to the monitoring system. Thanks to this data, business managers have information about their systems. Thus, the customer can monitor the energy obtained from the PV plants and the efficiency of the plant. These monitoring systems can be the inverter manufacturers' monitoring systems or a special SCADA system. Data from inverters, sensors, and other devices in solar power plants are collected in dataloggers.
Fimer's PVS-100/120-tl inverter does not require a Datalogger
SEVEN Sensors and inverters are connected to dataloggers, but as it is written in the news title, SEVEN sensors are connected via Fimer's PVS-100/120-tl model SUNSPEC without using a datalogger to get performance values. With this system, contractors get rid of the datalogger cost that will occur.
With SUNSPEC compatibility, SEVEN sensors can be connected directly to Fimer's PVS-100/120-TL inverter without the need for any datalogger. In addition, our customers who want to monitor solar power plants can check the plant performance via Aurora Vision, Fimer's monitoring platform.
Aurora Vision is a scalable web-based platform that allows our customers to manage their PV plants remotely, as well as an internet portal that allows monitoring and visualization of system data. Thanks to this platform, SEVEN Sensors connected to Fimer inverters have many dashboard views that allow monitoring of field system data, reporting, data analysis, system performance, and asset management.
The Required Sensors In ABB/Fimer Weather Station
The data of the irradiance sensor, ambient temperature sensor, panel temperature sensor, wind speed sensor, and wind direction sensor from Seven sensors can be monitored via the remote monitoring platform Aurora Vision.
It is possible to get the following meteorological data from our Weather Station.
We manufacture and supply sensors for PV systems with our experienced and qualified engineers, technicians, and workers. Our priority in all our products and services is customer focus, high quality, and on-time delivery. It is one of our main goals to take our products one step ahead by making continuous improvements with the R&D activities we carry out. As Seven Sensor team, our engineers are ready to provide you with information on any subject you may need. You can also contact us at any time about installation or any other issue.