The System, Mess und Anlagentechnik or SMA solar technology is a German company founded in 1981. It is a manufacturer of inverters and dataloggers, referred to as SMA Data Manager M, dedicated to the monitoring and management platform for photovoltaic systems.
As a solution provider, SEVEN Sensor produces a complete set of SMA weather station that contains many sensors compatible with the SMA Data Manager M. The most requested sensors are the PV Pyranometer which is used to measure the radiation flux density. The Ambient Temperature Sensor, that is important to see how production is affected by temperature. The Module Temperature Sensor, which provides the module temperature, and the Wind Speed Sensor, which is used to measure wind speed and provides the data obtained to the Data Manager M. The customer has always the right to choose which sensors he wants to add or to remove.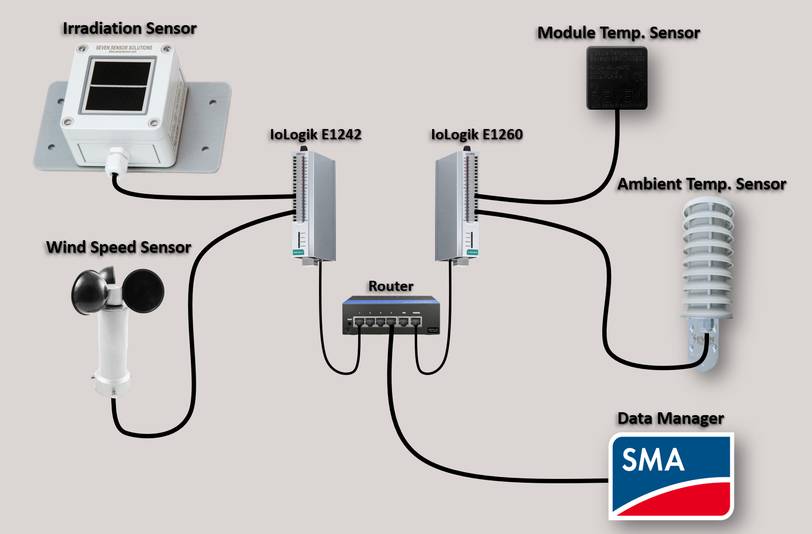 During the process, the SMA Data Manager M supports communication with up to 25 devices including a PV inverter, and up to three input/output systems. The number of supported devices can be optionally increased. It is necessary to use the Ethernet interface to ensure the integration of the sensors of PV systems into the generators and loads of the SMA infrastructure as well as into the I/O systems and meters.
In general, the I/O systems or accessories used with the SMA MANAGER M are the compact MOXA systems of the E1200 Series for price-sensitive applications and the modular WAGO systems of the 750 Series for more flexibility. However, for the installation of our weather stations, we use the compact MOXA ioLogik type E1242 with 4 analog inputs, 4 digital inputs, and 4 digital outputs as well as the MOXA ioLogik type E1260 with PT100 and PT1000 inputs for temperature measure.
Sunny Portal
Once all the sensors are installed on the weather station and connected to the Data Manager M, the monitoring system is switched on. for that reason our engineers provide a remote set up via the sunny portal. This Sunny Portal is an internet portal for monitoring and visualizing the system data. It serves as a user interface for the extensive configuration of the Data Manager, system sections, and the entire system.
How to purchase?
As we said before, our customers always have the right to choose the sensors they want for their weather station. Therefore, in order to purchase, they only need to contact us by mail or phone.
After negotiating the conditions and discussing the technical details, we send the order by express air freight, which is delivered to the customer's address within 2-4 days, internationally.
During installation, if you face any difficulties, our engineers are available to provide you with a remote installation service and information on anything you may need.