SolarEdge has been founded in 2006, specialized in smart energy technology and it is a developer of the DC-optimized inverter solution, which has rehabilitated the way energy is collected and controlled in PV Systems.
SolarEdge requires a set of sensors, that are suitable for its datalogger, for monitoring its PV power plants, SEVEN provides a complete set of weather station for solar PV power plants that are compatible with SolarEdge dataloggers. This Datalogger, called gateway, has only three connection ports that can be connected to three analog sensors. In general, customers prefer the standard set that includes a PV pyranometer, a wind speed sensor and a module temperature or ambient temperature sensor. In addition, there is another analog sensor, the wind direction sensor, which is also recommended and compatible with the gateway.
SolarEdge weather station components
The SolarEdge weather station consists of the following sensors:
Gateway communications
The Datalogger includes an interface for monitoring the power of the SolarEdge inverters and their communications. It also provides various types of wireless connectivity. The SolarEdge Monitoring Gateway connects to the PV sets by using the RS485 connection. The RS485 connection creates a string (bus) of 31 SolarEdge slaves, connected to a master, which is the data logger or perhaps another SolarEdge device.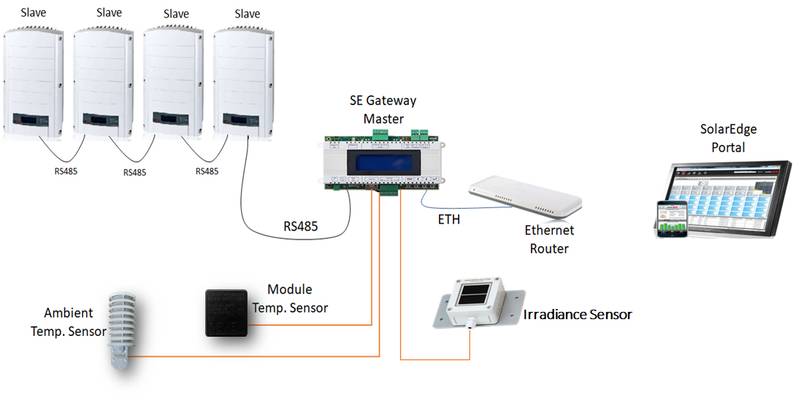 The SolarEdge Monitoring Platform
The SolarEdge Monitoring Platform provides specific details on the previous and current performance of each module individually and on the overall system. Then, it allows users to detect, locate and resolve breakdowns, effectively deal with maintenance operations and analyze site efficiency.
The SolarEdge monitoring platform allows the following-up of the financial and technical progress of all PV sites powered by SolarEdge devices.
How to purchase?
Since the Gateway Data Logger has only three connections, customers first decide whether they want the standard SolarEdge meteorological Station set or three other analog sensors that are compatible with the Gateway. Then, they contact us by email or phone.
After negotiating the conditions and discussing the technical details, we send the order by express air freight, which is delivered to the customer's address within 2-4 days, internationally.
During installation, if you face any difficulties. SEVEN Sensor's engineers will provide you a remote setup service, so they are at your disposal to provide you with information on anything you may need.