Huawei compatibility approval has been renewed by Huawei Headquarter.
As the largest manufacturer of meteorological sensors in Turkey, Seven Sensor Company with its range of products, including Irradiance Sensor, Module Temperature sensor, Ambient Temperature Sensor, wind Speed Sensor and Wind Direction sensor has achieved to get the compatibility approval with Huawei Smartloggers over the years.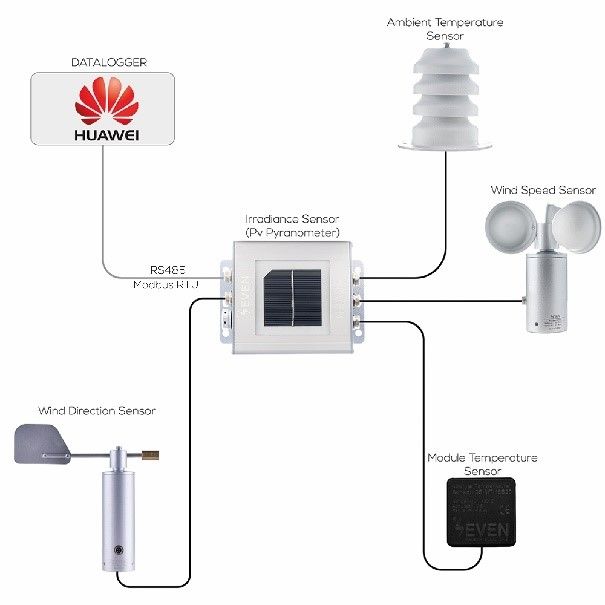 Huawei Weather Station
Huawei offers the most powerful inverters and dataloggers in the Solar field. Take the Smart Logger 3000A for example; it is dedicated to monitoring and managing photovoltaic power generation systems, and it can connect up to 80 solar devices and centrally controls Data about the connected solar modules and inverters.
In 2019, according to the Tests that we, Seven Sensor, carried out, our sensors were fully compatible with Huawei Smartloggers; for this, we contacted the head office directly to get the approval. We sent all the calibration certificates, technical details and the necessary documents of our sensor and then we got it.
On 2020-06-09 Huawei revised its list of approvals, and Seven Sensor Solutions, previously named Seven Solar, was as usual in the list, all because of the reliability and efficiency of our meteorological sensors.

Photo2: Huawei Approval
Irradiance Sensor, with Modbus output and 4 (flexible) inputs, according to the customer's request. Seven Sensor offers the irradiance sensor with a number of inputs equal to the number of sensors to be connected. This sensor is equipped with an electronic card programmed to connect 3 digital sensors and one analog sensor.
Module Temperature Sensor, with Digital output, most of the client thinks that the integrated cell temperature sensor in the irradiance sensor is enough to measure the temperature of the module, which is not correct. The temperature of the PV modules and the irradiance sensor are different because the irradiance sensor's cell is way different than the PV Modules.
Ambient Temperature Sensor, with Digital output, used to see how production is affected by temperature. In addition, the temperature formed in the panel can vary considerably from the ambient temperature. So, this sensor provides valuable data for analysis.
Wind Speed Sensor, with Digital output, is a device used to measure wind speed and provides the data to the Huawei Smartlogger.
Wind Speed Direction, with an analog output, is used to determine the wind direction.
Configuration in Fusion Solar or NetEco & Enspire
Seven Sensor Solutions, provides settings instruction for Huawei Weather Station via NetEco and Enspire.
In general, the weather station converts the meteorological data it receives from the sensors into an output signal. The data is transferred to the Smartlogger via RS485 with the Modbus RTU protocol. Then, the Smartlogger transmits this data to the Fusion Solar or NetEco monitoring system.